Neymar Jr Welcomes Baby Girl With Girlfriend Bruna Biancardi "Our Mavie Arrived…"
Al-Hilal superstar Neymar Jr announced the birth of his daughter with girlfriend Bruna Biancardi on Saturday morning.
The two have kept their relationship relatively secret, however, in 2022, theymade their Instagram debut by sharing a few photos together.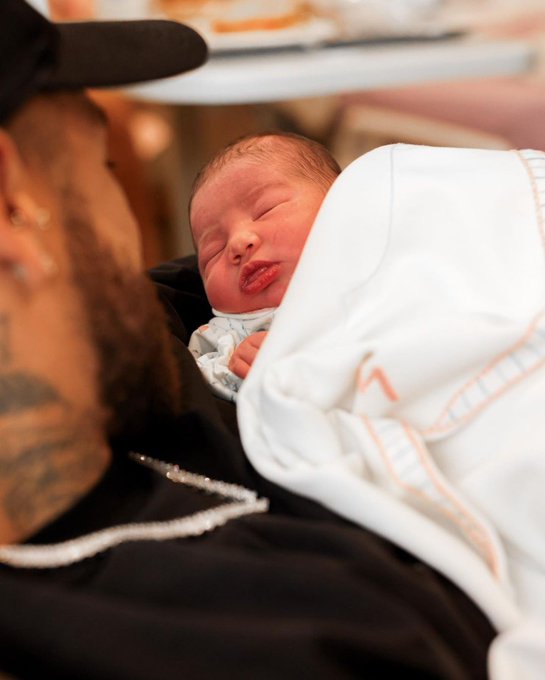 On Saturday, the Brazilian soccer star announced that he was blessed with a baby girl with his girlfriend.
He shared a series of adorable photos on X (formerly Twitter) with the baby and thanked baby for choosing them.
"Our Mavie has come to complete our lives," Neymar wrote in Portuguese."Welcome my daughter! You are already very loved by us…
thank you for choosing us," the footballer added. Furthermore, Bruna Biancardi also took advantage of her official Instagram account and welcomed their child.
She shared a few photos in which they are seen holding their newborn daughter, Mavie, in their arms.
On social networks, the news that Neymar and his girlfriend have become parents makes fans excited. Netizens flooded the comments section with congratulatory messages. "Welcome, Mavie! God bless you," one user wrote.
"So beautiful! God bless this beautiful little princess," said another. "Ahhh it's so fun to live this moment with you guys! This precious girl is so drooling.
I love you guys so much!" a third person commented. "Welcome, Princess Mavie! God bless you, dear family, Congratulations and best wishes!", another added.