Cristiano Ronaldo Girlfriend Georgina Rodriguez Stuns fans with Hot new look
Georgina Rodriguez made heads turn as she flaunted her impeccable style in a stunning sheer yellow mini dress.
The 29-year-old model took to Instagram to share captivating photos from her boat excursion, leaving her followers in awe.
Sheer Yellow Elegance
Georgina Rodriguez exuded sheer elegance in a ruched, long-sleeved yellow dress adorned with beautiful flower details and delicate draping.
Her impeccable choice of attire emphasized her radiant beauty and impeccable fashion sense.
Captivating Accessories
Accompanying her chic ensemble, Georgina showcased her long legs with a pair of tall clear heels featuring pointed toes.
Completing her fashionable look, she carried a sophisticated black designer bag, perfectly complementing her outfit.
Effortless Beauty
Georgina's long, dark hair cascaded in loose waves, enhancing her natural allure. Shielding her eyes from the sun's rays, she sported bold black sunglasses, adding a touch of mystery to her enchanting appearance.
Subtle Enhancements
To accentuate her stunning ensemble, Georgina adorned herself with beautiful silver drop earrings, effortlessly adding a touch of elegance to her overall look.
Her flawless makeup palette further accentuated her features, enhancing her natural beauty.
Georgina Rodriguez: Mesmerizing the World
Georgina Rodriguez left the world mesmerized with her captivating presence. Her recent Instagram update showcased her on a boat, radiating confidence and beauty.
The vibrant yellow dress hugged her figure flawlessly, leaving a lasting impression on her followers.
An Unforgettable Sunset
In another captivating picture, Georgina shared a beautiful moment with her boyfriend Cristiano Ronaldo as they watched the sunset from the yacht, accompanied by their friends.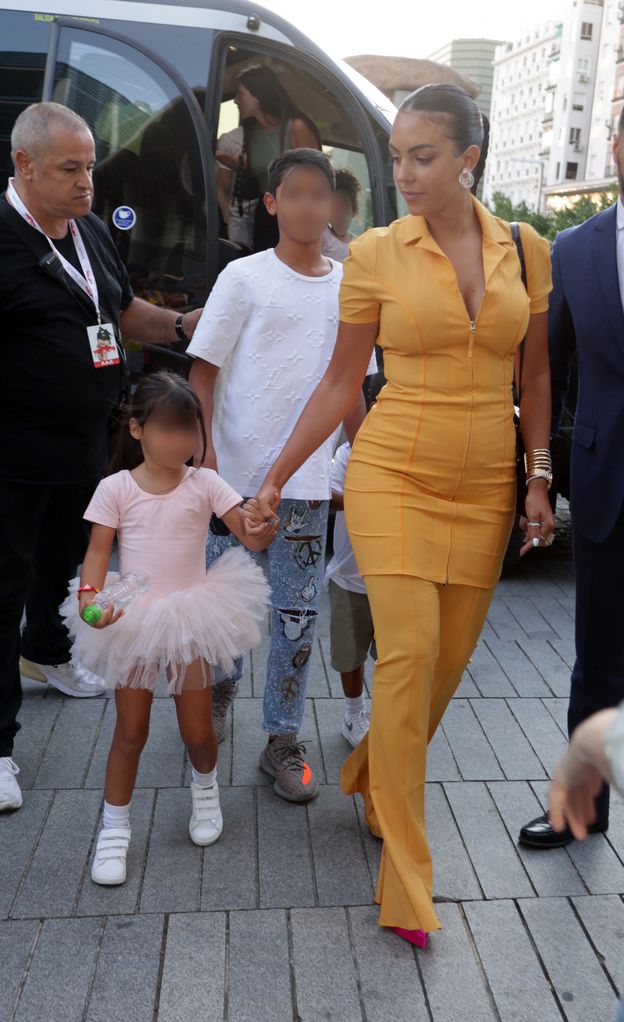 Cristiano appeared effortlessly cool, donning a white linen shirt, matching shorts, and stylish sunglasses.
Cherishing Precious Moments
Georgina delighted her fans with a picture of herself climbing the boat ladder after a refreshing swim.
Displaying her natural beauty, she donned a sleek black swimsuit, gracefully sweeping her wet hair away from her face.
Radiant Accessories
To complement her beachside look, Georgina adorned herself with a sparkling silver necklace and adorned her ears with large stud earrings, creating a harmonious ensemble.
A Family Getaway
Georgina and Cristiano embarked on a memorable vacation with their children, jetting off to Italy. The couple shared glimpses of their trip on social media, radiating joy and happiness.
A Growing Family
Before Georgina entered Cristiano's life, he already had a 12-year-old son named Cristiano Jr. and five-year-old twins, Eva and Mateo.
Together, Georgina and Cristiano welcomed their 5-year-old daughter, Alana Martina, and 13-month-old baby girl, Bella.
Unforgettable Moments
Georgina captured a heartwarming moment of their family smiling on the yacht, radiating love and happiness.
Their social media posts showcased the joy they experienced during their memorable trip.
Georgina Rodriguez: A Style Icon
Georgina, the girlfriend of football star Cristiano Ronaldo, effortlessly styled her long, dark tresses in loose waves, complementing her captivating appearance.
She elevated her fashion statement with bold black sunglasses, exuding confidence and poise.
Unforgettable Leggy Display
Georgina's chic fashion sense was on full display as she showcased her perfectly toned legs in a pair of stunning clear pointed toe heels.
She effortlessly carried her belongings in a sophisticated black designer bag, completing her glamorous look.
Embracing Serenity
Georgina and Cristiano shared a picture-perfect moment, savoring the breathtaking sunset from their yacht alongside their friends.
Georgina radiated beauty in her stylish green bikini and designer sunglasses, while a ruby necklace added a touch of elegance to her ensemble.
Cristiano's Stylish Demeanor
Cristiano sported black and white Dolce & Gabbana swim trunks, revealing his chiseled physique as he basked in the sun's warm glow. His carefree, shirtless presence complemented Georgina's captivating aura.
Love and Future Planning
Reports from Spain suggest that Georgina and Cristiano have a "pre-nuptial agreement" to safeguard their future, ensuring financial security in the event of a breakup.
This agreement includes provisions for Georgina's welfare, including ownership of the family's Madrid home, La Finca, and an £85,900 (€100,000) monthly stipend for the rest of her life.
The Highest-Paid Athlete
Forbes crowned Cristiano as the highest-paid athlete in the world, with an estimated earning of over £109 million this year.
His astounding success highlights his exceptional talent and immense financial stature within the sporting world.